Craig Settee - Recipient, Athletic Senior Award for the 13th Annual Manitoba Aboriginal Youth Achievement Awards



On Thursday, October 19, 2006 at the Winnipeg Convention Centre, 14 Manitoba youth were honored for their accomplishments and achievements in numerous categories. The athletic award was presented to an individual between the ages of 20 - 24 who has achieved excellence in an individual or team athletic activity. This individual was our very own Craig Settee from the Winnipeg Junior B Saints!!

Craig Settee is from Fisher River Cree Nation and also has roots with Dauphin River First Nation. Craig is proud of his First Nations heritage and is a role model for his younger brother. Craig has been playing hockey since he was five years old and has a passion for hockey. Craig also believes that along with playing the sport, it is important to live a healthy lifestyle. He was a member of the Winnipeg AAA Hawks during the 1999-2000 hockey seasons when they won the City Championship. Craig also has two championship rings when he played with the Winnipeg Satellites. Craig also played with the Winnipeg Saints Jr A for the 2002-04 seasons. He has been playing with the Jr B Saints since 2005-06 season and was named MVP for the 2005-06 season.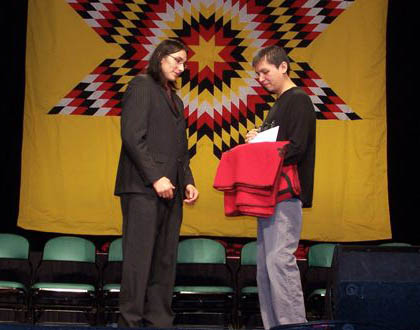 Craig is attending the University of Manitoba, Faculty of Education and plans to be a Physical Education teacher. While pursuing his education and playing for the Jr B Saints; Craig also works part-time at Revenue Canada.

Congratulations Craig on a well deserved award from the Saints organization and your many supporters!